Stay calm and move aside: Collisions involving police vehicles
8 October 2022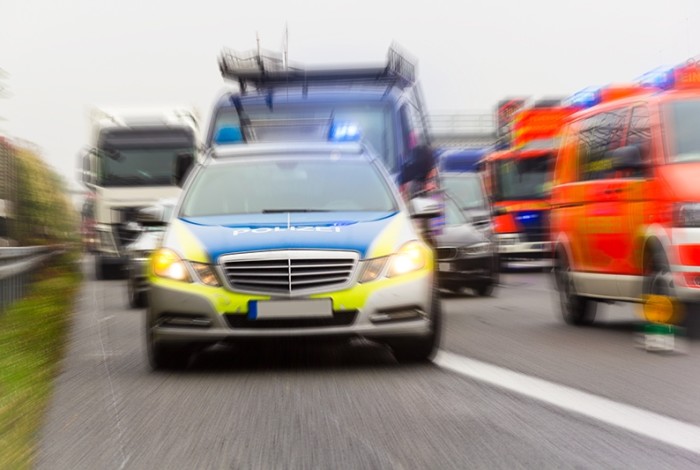 Stay calm and move aside: Collisions involving police vehicles
When we experience a shock, something that takes us by utter surprise, we often feel like we are on autopilot and our survival mechanism takes over. An auto accident can be one of those life experiences that can really shake us and it is one that we hope to never have to go through. Every day in the UK, there are about 60 car accidents on average. Many are with other automobiles or road users, but some of them are with emergency service vehicles. That adds another element of distress. So how can you avoid a situation like that altogether?
In 2019, the Guardian published their article "Number of road deaths involving police vehicles at 13-year high: Forty-two people killed in accidents in England and Wales, including 30 during pursuits".
The article goes on to state that this is the the highest number in more than a decade and the third highest on record.
"Thirty deaths occurred during police pursuits, an increase of 13 on the previous year and the highest since 32 in 2005-06. That was the worst year on record for police-related road traffic accidents, with 48 deaths [...] Four people were killed when they were hit by police vehicles responding to an emergency call. Another death occurred when an unmarked police car responding to an emergency call collided with another vehicle."
Avoidable circumstance?
Accidents resulting in injured parties or casualties even is something that could be avoided with in-car devices like Target Blu Eye that alert to the presence of emergency service vehicles in the vicinity. In fact, such endeavours have recently gotten the thumbs up from the Dutch Gevernment (for our Dutch readers, you can read more about that here).
Unfortunately, according to The Guardian article mentioned above, "Two years on, the government reports little progress in these areas. The fact that the majority of recent deaths relate to these vulnerabilities shows the cost of such failures, and the importance of a public health-focused response. At a time when all political parties are promising additional police on the streets, our ongoing casework shows that more police numbers are not the answer to public safety. Ultimately to prevent further deaths and harm, we must look beyond policing and redirect resources into community, health, welfare and specialist services."
Official data: Collisions involving police vehicles
In response to a Freedom of information request (reference No: 01.FOI.19.002338), the Metropolitan Police released information regarding vehicular collisions involving the police from the years 2016, 2017, 2018 and 2019.
While the data isn't thorough enough to also indicate number of fatalities or if the deaths were a) police officers, b) the driver/rider of a suspect vehicle, or c) members of the public, it was possible for them to provide information regarding total collisions of police collisions involving civilians:
From 2016 to 2017: 2088 collisions
From 2017 to 2018: 2568 collisions
From 2018 to 2019: 2597 collisions
When it came to providing information regarding about restitutions, the the provide settlement costs arising from legal claims from third parties following road traffic collisions involving Met vehicles for each of the three financial years (I understand this includes compensation to victims as well as third party legal costs, vehicle repair costs and vehicle hire costs). As of July 2019, the restitutions estimated the following:
2016 to 2017 : £2,534,984.78
2017 to 2018 : £2,229,178.39
2018 to 2019 : £1,699,442.17
Source: https://www.met.police.uk/foi-ai/metropolitan-police/disclosure-2019/september/police-collisions-2016-2019/
What To Do If An Emergency Vehicle is Approaching
The Highway Code's Rule 219 says states: "You should look and listen for ambulances, fire engines, police, doctors or other emergency vehicles using flashing blue, red or green lights and sirens or flashing headlights, or traffic officer and incident support vehicles using flashing amber lights." This is often easier said than done however due to increased road traffic blocking clear views of emergency vehicles approaching from behind as well as the combination of sound insulation in modern vehicles paired with powerful sound systems.
With Target Blu Eye, drivers are alerted to the presence of emergency service vehicles within their radius. Should you become aware of an approaching ambulance for example, drivers still need to abide by the laws of the road, obey traffic signs, and avoid putting other road users in danger. This includes, for example, not mounting the kerb, driving through a red light or braking sharply so that the vehicles behind you don't have time to respond. The safest response to approaching emergency service vehicles is to move out the way as safely and conveniently as possible, and with Target Blu Eye in your vehicle with you, you are alerted with enough forenotice that you can take the appropriate action calmly and in time.
Stay calm and carry on
Stay Calm: Make sure you don't panic or break suddenly because you see an emergency vehicle coming. Doing so can slow down the process of the emergency vehicle getting through and could also put other road users in danger.
Roundabouts: When approaching a roundabout make sure you let the emergency vehicle reach, navigate and leave before you approach the round about as it could cause more confusion if there are too many cars around.
Motorways/dual-carriageways: Move over to the nearside lane (left lane by the hard shoulder) of the motorway and don't forget to signal and check for approaching vehicles. Merge with the other vehicles that are in the lane but don't cut in front of them as they may not know about the approaching emergency vehicle yet.
Coming out of a side road: If you can hear sirens do not pull out. Stay where you are until the emergency vehicle has passed. Don't gamble as it is hard to judge how fast the vehicle is going. Once the vehicle has passed pull out when it is safe to do so.
Be Safe: If you are able to pull over on a road then look in your mirrors and indicate. Make sure you double check for any cyclists, bikes, pedestrians and other cars before you do so. Don't pull over on a bend or a hill.
Once it's passed: Once the vehicle has passed don't just pull out assuming it is all clear. There will be other cars that have done the same thing or maybe even other emergency vehicles going to the same incident.
When pulling over for any emergency vehicle make sure to think back to the days when you were learning to drive; Mirror, Signal and Manoeuvre. This will prevent any unnecessary collisions or injuries.
Remember: Emergency vehicles have exemptions from the law and the Highway Code however motorists don't. Don't go through red lights or speed to let them through.
Source: https://www.rightsure.co.uk/blog/emergency-vehicle-approaching/
Target Blu Eye: Know what's out there
The best way to prevent facing serious fines and receiving penalty points is to drive responsibly and within the speed limit. Target Blu Eye is a product with an integrated display that warns drivers of nearby or approaching emergency vehicles. Consequently, drivers get the same safety benefits as using apps like Waze without the risk of getting distracted and using their phone while driving and risking a hefty fine, receiving penalty points on their driver's licence, or worse, a serious accident. It's why Target Blu Eye remains the ideal solution for UK drivers; alerting them of approaching emergency service vehicles that improves road safety and promotes overall more responsible driver behaviour.
But couldn't drivers just use their eyes and ears? Visually, traffic jams on motorways or lorries blocking the view of the rear make spotting approaching emergency vehicles from behind more tricky. Sound insulation in modern cars, plus the popularity of powerful Hi-Fi systems, means that many drivers now don't hear sirens in time to move out of the way. The best way to identify marked or unmarked police cars is using a Target Blu Eye.
With Target Blu Eye, identifying emergency vehicles in your surroundings is made easy. While some drivers use apps to help them get a better understanding of what is happening on the road around them, they do not alert drivers to the presence of unseen emergency vehicles or unmarked police vehicles. The audio and visual signals that Target Blu Eye emits are much harder to miss.
Something all emergency vehicles have in common is that they communicate using a TETRA radio. TETRA stands for Terrestrial Trunked Radio and is a digital standard for radio communication used by almost all emergency services in Europe. In the UK, the TETRA network for emergency services is called Airwave.
Target Blu Eye monitors the frequencies of emergency services' TETRA and Airwave radios and listens for the distinctive periodic pulses sent by the radios with intervals of a few seconds. These could be emitted by marked or unmarked vehicles, by radios worn by beat officers, or even mobile speed camera operators. When the pulse is detected, the driver is alerted. Based on the sensitivity setting, it can detect any emergency services radio within 800 yards. This even happens when the Airwave radios are on standby only and not being used for communication (speech). This enables drivers to become aware of the emergency vehicles with forenotice. Near a hospital for example, the panel will pick up greater activity. Out on the motorway, it can give ample warning of a police car approaching, even one on the opposite carriageway.
Does Target Blu Eye alert of other emergency vehicles too?
Target Blu Eye does not differentiate between emergency vehicles, including both marked and unmarked police cars, because they use the same TETRA/Airwave protocol to communicate with each other. Therefore Blu Eye also alerts drivers of ambulances, fire engines, motorcycles, HGVs, Highway Agency vehicles, and other emergency service vehicles, regardless of whether they are on Blue lights and sirens.
Can Target Blu Eye help me prevent getting a fine?
We sometimes have customers asking if Target Blu Eye prevent getting a fine of receiving pentalty points for violations such as speeding to move out of the way of an approaching emergency vehicle? The answer to this question will always be no. Target Blu Eye is has been designed as a device to improve driver safety. It is our leading priority, and with Target Blu Eye, motorists can drive with more peace of mind by being more aware of their surroundings.
To sum it up
The most effective way to stay focused on the road and to promote road safety is by installing Target Blu Eye. With technology that alerts drivers of authentic emergency vehicles that you share the road with, drivers that use Target Blu Eye can rest assured knowing that they will have enough time to responsibly switch lanes, enabling the police to get on with their important work. Target Blu Eye is always on and protecting its passengers.