Hold your horses: Target Blu Eye doesn't give drivers the licence to speed
1 October 2022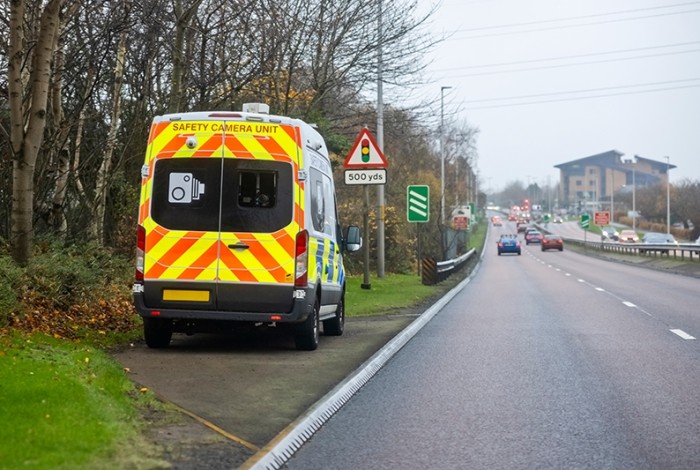 Hold your horses: Target Blu Eye doesn't give drivers the licence to speed
Every 22 minutes someone is killed or seriously injured on UK roads
An article published on 15 May 2022 in The Times bears the headline: "Speeding causes three times as many road deaths as previously thought". A Metropolitan Police review has found that speeding was cited as a factor in 17.5 per cent of fatal crashes in 2019 based on the initial investigation, but 49.2 percent based on the final results. The figure for 2020 was revised up from 19.1 per cent to 46.8 percent.
Brake, the road safety charity here in the UK reports that "In 2020, 1,516 people were killed on UK roads, with 1,460 deaths recorded in Britain and 56 recorded in Northern Ireland". Even though cars have become more safe and technology is improving, driving casualties are still a pressing issue. It's heartbreaking to realise that every death and serious injury on the road is a preventable tragedy and yet, "on average, five people die every day on the road in the UK and countless more are seriously injured", Brake states. Among other reckless behaviour of drivers on the road, driving too fast and exceeding the speed limit is something that can have a tremendous impact on many lives.
Speed cameras
One way that the police monitor the roads is through the use of speed cameras. There number one priority is to keep motorists, passengers, other road users and pedestrians alike safe.
The cameras monitoring the roads are:
Gatso Speed Camera – in a fixed place designed catch speeding motorists
Average speed camera – catches motorists who speed between two fixed points – usually between the start and finish of roadworks
Mobile speed cameras – set up at accident blackspots by local police
ANPR cameras – Automatic Number Plate Recognition, software checks your number plate
Red light cameras – at traffic lights where there's a lot of accidents
Traffic violation cameras – at box junctions, bus lanes etc
Source: https://blog.swanswaygarages.com/different-types-of-speed-cameras
Why do we have speed cameras?
Figures from the Royal Society for the Prevention of Accidents (RoSPA) Fact Steet reveal that inappropriate speed plays a contributing factor in 11% of all injuries, 15% of serious injuries and 24% of deaths on the road.
RAC, the UK based business that specialises in roadside assistance and vehicle insurance, has reported that "almost 350 people are killed each year on the UK's roads – with over 2,500 seriously injured – simply because drivers and riders travel too fast." It makes the case that high speeds lead a driver to be less likely to react to what's happening around them. It's why speed cameras are often placed in notoriously accident-prone areas because they have the most significant impact on reducing speed related injuries and deaths.
Speeding penalties
The most common reasons for people getting penalty points on their licence are: speeding, driving without due care and attention, using a mobile phone, driving while disqualified, and drink or drug-driving offences. One of the most prominent things the UK government has been doing over the last few years is becoming increasingly more strict with penalties for speeding. By introducing speeding penalties with a minimum of three penalty points and a £100 fine, the UK hopes to further discourage driving over the speed limit. With 12 penalty points, a driver can expect to get a ban on their licence.
The minimum penalty for speeding is a £100 fine and 3 penalty points added to your licence.
You could be disqualified from driving if you build up 12 or more penalty points within a period of 3 years - check your driving licence record to see if you have points on your licence.
If you're caught by a speed camera
Within 14 days of your car being caught speeding you'll be sent a:
Notice of Intended Prosecution (NIP)
Section 172 notice
You must return the Section 172 notice within 28 days, telling the police who was driving the car.
You may have to go to court if you ignore the notice.
After you've sent the Section 172 notice back, you'll be sent either a:
Fixed Penalty Notice (FPN)
letter telling you to go to court
If you're stopped by the police
If you're stopped by the police, they can:
give you a verbal warning
give or send you an FPN
order you to go to court - you'll be sent a letter telling you what to do
Getting a Fixed Penalty Notice
If you get an FPN you can choose to plead guilty or not guilty.
If you plead guilty
You'll have to pay a £100 fine and have 3 points added to your licence, unless you're given the option to attend a speed awareness course.
If you pay the fine, how you pay depends on where you were caught speeding. You can:
pay the fine online in England and Wales or check the ticket for other ways to pay
find out how to pay the fine in Scotland
contact the Laganside Courts Complex to pay the fine in Northern Ireland
Your driving licence will have a code on it for 4 years.
You may be given the option of attending a speed awareness course if:
the police decide it's appropriate for your offence
you have not been on a speed awareness course in the past 3 years
If you plead not guilty
You'll have to go to court if you plead not guilty.
You can be fined more and get more penalty points if the court decides you're guilty of speeding.
The amount you're fined depends on what the speed limit was and how much over it you were driving. It's usually a percentage of your weekly income, up to a maximum of £1,000 (£2,500 if you were driving on a motorway).
You could also be disqualified from driving or have your licence suspended.
New drivers
If you're still within 2 years of passing your driving test, your driving licence will be revoked (withdrawn) if you build up 6 or more penalty points.
Source: https://www.gov.uk/speeding-penalties#:~:text=The%20minimum%20penalty%20for%20speeding,have%20points%20on%20your%20licence
By using an online speeding fine calculator like this one https://www.speedingcalculator.co.uk/, drivers can determine more accurately what your penalty will be for driving faster than the speed limit.
Target Blu Eye: Know what's out there
The best way to prevent facing serious fines and receiving penalty points is to drive responsibly and within the speed limit. Target Blu Eye is a product with an integrated display that warns drivers of nearby or approaching emergency vehicles. Consequently, drivers get the same safety benefits as using apps like Waze without the risk of getting distracted and using their phone while driving and risking a hefty fine, receiving penalty points on their driver's licence, or worse, a serious accident. It's why Target Blu Eye remains the ideal solution for UK drivers; alerting them of approaching emergency service vehicles that improves road safety and promotes overall more responsible driver behaviour.
But couldn't drivers just use their eyes and ears? Visually, traffic jams on motorways or lorries blocking the view of the rear make spotting approaching emergency vehicles from behind more tricky. Sound insulation in modern cars, plus the popularity of powerful Hi-Fi systems, means that many drivers now don't hear sirens in time to move out of the way. The best way to identify marked or unmarked police cars is using a Target Blu Eye.
With Target Blu Eye, identifying emergency vehicles in your surroundings is made easy. While some drivers use apps to help them get a better understanding of what is happening on the road around them, they do not alert drivers to the presence of unseen emergency vehicles or unmarked police vehicles. The audio and visual signals that Target Blu Eye emits are much harder to miss.
Something all emergency vehicles have in common is that they communicate using a TETRA radio. TETRA stands for Terrestrial Trunked Radio and is a digital standard for radio communication used by almost all emergency services in Europe. In the UK, the TETRA network for emergency services is called Airwave.
Target Blu Eye monitors the frequencies of emergency services' TETRA and Airwave radios and listens for the distinctive periodic pulses sent by the radios with intervals of a few seconds. These could be emitted by marked or unmarked vehicles, by radios worn by beat officers, or even mobile speed camera operators. When the pulse is detected, the driver is alerted. Based on the sensitivity setting, it can detect any emergency services radio within 800 yards. This even happens when the Airwave radios are on standby only and not being used for communication (speech). This enables drivers to become aware of the emergency vehicles with forenotice. Near a hospital for example, the panel will pick up greater activity. Out on the motorway, it can give ample warning of a police car approaching, even one on the opposite carriageway.
Does Target Blu Eye alert of other emergency vehicles too?
Target Blu Eye does not differentiate between emergency vehicles, including both marked and unmarked police cars, because they use the same TETRA/Airwave protocol to communicate with each other. Therefore Blu Eye also alerts drivers of ambulances, fire engines, motorcycles, HGVs, Highway Agency vehicles, and other emergency service vehicles, regardless of whether they are on Blue lights and sirens.
Can Target Blu Eye help me prevent getting a fine?
We sometimes have customers asking if Target Blu Eye prevent getting a fine of receiving pentalty points for violations such as speeding? The answer to this question will always be no. Target Blu Eye is has been designed as a device to improve driver safety. It is our leading priority, and with Target Blu Eye, motorists can drive with more peace of mind by being more aware of their surroundings.
To sum it up
The most effective way to stay focused on the road and to promote road safety is by installing Target Blu Eye. With technology that alerts drivers of authentic emergency vehicles that you share the road with, drivers that use Target Blu Eye can rest assured knowing that they will have enough time to responsibly switch lanes, enabling the police to get on with their important work. Target Blu Eye is always on and protecting its passengers.
Curious about the technology, installation of the device and the different modes, take a look here to get better acquainted with Target Blu Eye.
Sources:
"UK Road Death and Casualty Statistics" https://www.brake.org.uk/get-involved/take-action/mybrake/knowledge-centre/uk-road-safety#:~:text=In%202020%2C%201%2C516%20people%20were,56%20recorded%20in%20Northern%20Ireland
"Speed cameras – how they work"
https://www.rac.co.uk/drive/advice/cameras/speed-cameras/