Devices like Target Blu Eye get green light from Dutch Government for road safety
1 November 2022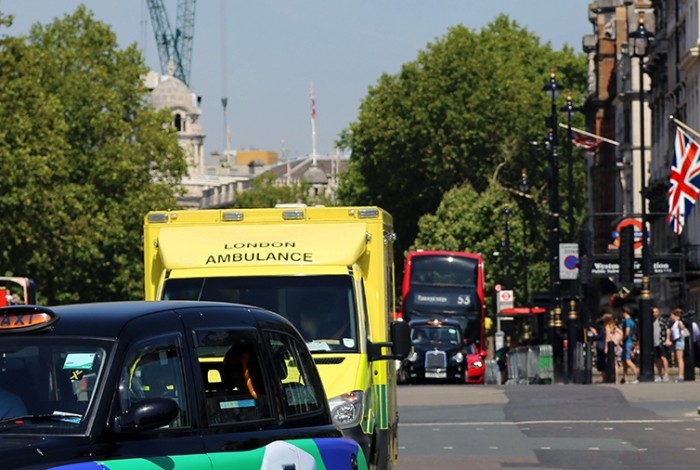 Devices like Target Blu Eye get green light from Dutch Government for road safety
You are deep in your thoughts, concentrating on the road ahead, and all of a sudden, there is an ambulance or fire engine with flashing Blue lights and a siren behind you. You now need to move out of the way as quickly as possible; sometimes, finding a space to move to is difficult. Wouldn't it be much better and significantly safer if you received an early warning of the approaching emergency service vehicle in your car?
At the beginning of June 2022, the Dutch government sent out a press release giving devices like Target Blu Eye the green light to warn motorists of approaching emergency service vehicles as a means of improving road safety.
Translated from Dutch, the press release makes the following announcement:
The Netherlands will be the first European country where it will soon be possible for your car or navigation system to warn you of an approaching vehicle with flashing lights and sirens. In the next three years, the Ministry of Infrastructure and the Environment will be working with six parties to provide motorised traffic with more and better safety warnings.
On 4 July 2022 at 16:45 hours, the collaboration will kick-off at the new NDW office in Utrecht. The collaboration will be developed under the name 'Safety Priority Services' (SPS).
Minister Harbers (Infrastructure and Water Management): "By now 98% of motorists use digital information on the road. In addition, pilots and projects have shown that warning drivers en route has a positive effect on road safety. I am keen to capitalise on these developments, not least because drivers of cars and lorries, for example, have indicated that they value these warnings and increasingly rely on them. That is why we are now going to work together with six organisations: we will make sure that they give the right information to the driver in a safe way."
Safety Priority Services
Users of ANWB, Be-Mobile, Hyundai, Inrix, Kia or TomTom will soon notice a difference: their car or app will, among other things, warn them when a vehicle with flashing lights and siren is approaching. The notification tells which vehicle is approaching and from which direction. Initially, this will only apply to ambulances, but later this year it will also apply to other vehicles.
Drivers are also warned according to criteria agreed by the government, so that they are not unnecessarily distracted. This happens when they approach unexpected and potentially dangerous situations, such as:
Ghost drivers
Traffic jams
Obstacles on the road
Road works
An accident
(Temporarily) slippery road surface
Unusual weather, such as heavy hail storms
Closed lanes ('red crosses')
Roadside road inspectors or other emergency services
In addition, they receive information about do's and don'ts, such as the applicable speed limit. In the long term, it will be investigated whether the route advice of navigation services can take into account potentially unsafe situations, such as avoiding school zones.
Gaining knowledge and experience
With Safety Priority Services, the Netherlands is anticipating European legislation and regulations that will come into force in 2025. In the Netherlands, the companies involved can gain knowledge and experience in prioritising, designing and passing on traffic safety warnings.
In the cooperation, the six companies combine their own data with that of the National Data Portal for Road Traffic (NDW). The data from the companies themselves ensures that systems know where there is slow-moving traffic (tailbacks), for example, or where road inspectors are driving or standing. The NDW data is accessible to everyone; it contains information on prohibitions and restrictions.
The six parties will provide feedback on the quality of the NDW data, so that it can be improved where necessary. Agreements have also been reached with the companies on the form of their warnings: during warnings, the driver does not have to perform any actions, so that he can keep his hands on the wheel.
Privacy
The privacy of the driver is of course guaranteed. The six parties ask their users if the information may be shared for the benefit of road safety. If the user agrees, this data is fully anonymised and shared with the other parties via a secure connection.
Source: https://www.rijksoverheid.nl
Target Blu Eye: Know what's out there
In the UK, at this stage, there is no known Government initative to provide motorists with such thorough information as the Netherlands is hoping to roll out. It is interesting to note that the Dutch have identified that when drivers are informed about their surroundings, there is a direct correlation to road safety. It's why Target Blu Eye remains the ideal solution for UK drivers; alerting them of approaching emergency service vehicles that improves road safety and promotes overall more responsible driver behaviour.
But couldn't drivers just use their eyes and ears? Visually, traffic jams on motorways or lorries blocking the view of the rear make spotting approaching emergency vehicles from behind more tricky. Sound insulation in modern cars, plus the popularity of powerful Hi-Fi systems, means that many drivers now don't hear sirens in time to move out of the way. The best way to identify marked or unmarked police cars is using a Target Blu Eye.
With Target Blu Eye, identifying emergency vehicles in your surroundings is made easy. While some drivers use apps to help them get a better understanding of what is happening on the road around them, they do not alert drivers to the presence of unseen emergency vehicles or unmarked police vehicles. The audio and visual signals that Target Blu Eye emits are much harder to miss.
Something all emergency vehicles have in common is that they communicate using a TETRA radio. TETRA stands for Terrestrial Trunked Radio and is a digital standard for radio communication used by almost all emergency services in Europe. In the UK, the TETRA network for emergency services is called Airwave.
Target Blu Eye monitors the frequencies of emergency services' TETRA and Airwave radios and listens for the distinctive periodic pulses sent by the radios every four seconds to be assured of a place in the network. These could be emitted by marked or unmarked vehicles, by radios worn by beat officers, or even mobile speed camera operators. When the pulse is detected, the driver is alerted. Based on the sensitivity setting, it can detect any emergency services radio within 1,100 yards. This even happens when the Airwave radios are on standby only and not being used for communication (speech). This enables drivers to become aware of the emergency vehicles with forenotice. Near a hospital for example, the panel will pick up greater activity. Out on the motorway, it can give ample warning of a police car approaching, even one on the opposite carriageway.
Does Target Blu Eye alert of other emergency vehicles too?
Target Blu Eye does not differentiate between emergency vehicles, including both marked and unmarked police cars, because they use the same TETRA/Airwave protocol to communicate with each other. Therefore Blu Eye also alerts drivers of ambulances, fire engines, motorcycles, HGVs, Highway Agency vehicles, and other emergency service vehicles, regardless of whether they are on Blue lights and sirens.
To sum it up
The most effective way to stay focused on the road and to promote road safety is by installing Target Blu Eye. With technology that alerts drivers of authentic emergency vehicles that you share the road with, drivers that use Target Blu Eye can rest assured knowing that they will have enough time to responsibly switch lanes, enabling the police to get on with their important work. Target Blu Eye is always on and protecting its passengers.